Buy at AllPosters.com
This skeleton t-shirt is a great choice for Halloween. For one thing it has long sleeves so if you are going out you might not have to wear a jacket over it. For another, it glows in the dark which is a big plus if you're going to be out at night or somewhere with the lights out. It is printed on the front and the back so you can be seen coming or going. The sleeves are printed with arm bones and that is an extra you don't get with most t-shirts. It's just an all around great t-shirt for Halloween fun.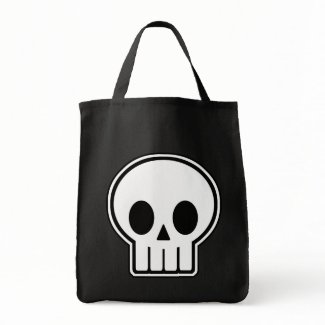 Vector Skull Halloween Trick or Treat Grocery Tote
by
koncepts
Design a
Custom bag
at www.Zazzle.com
From the designer of this bag: "Skull design for Halloween. Roomy grocery tote bag holds lots of candy for trick or treaters. Design is hip and this bag can be used year round."
Instead of wearing your heart on your sleeve you can carry your head in your hand.
QUICK LINK
For more great t-shirts and treat bags click HERE.
Happy Halloween!