Creepy Cute Cupcakes for Halloween
Halloween cupcakes are almost as much fun to make as they are to eat!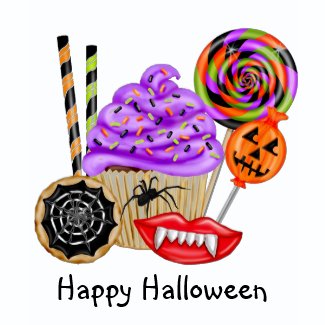 Perfect for Halloween parties, cupcakes decorated with Halloween themes are easy to serve, and their presentation is eerily cute. A platter full of Halloween cupcakes is all you need for the perfect centerpiece on your table! Halloween cupcakes are also popular at school functions, office parties, or when served to your family and friends as a special All Hallows Eve dessert.
The easiest way to create awesome Halloween cupcakes is to frost your cupcakes with a cool Halloween colored icing like, orange, green, or purple and then simply decorate them using orange, black, and white sprinkles. (as shown above) Use vanilla frosting as a base and add a couple drops of food coloring to get your desired spooky frosting color choice.
Until next time,
ps... Looking for cupcake recipes for other occasions? Or maybe you just want a new cupcake recipe for every day? Visit me at the
Cupcake Club
where you'll find links to our members top 100 cupcake recipe pages. Or join us by making a page of your own about your best cupcake recipe or cupcake decorating idea. You can earn cash for yourself, or your favorite charity.